IMPORTANT NOTICE
The Practice is currently experiencing very high levels of staff shortages. We are running on a reduced number of staff within our GP, nursing and dispensary teams this week.
Please can we ask patients not to attend before 5 days for their repeat medication as it will not be ready for collection. Can we remind patients that if you have a minor ailment such as a cough, cold, sore throat or upset stomach, you can seek advice and over the counter medication from your local pharmacist. For life threatening medical emergencies please call 999.
We apologise for the temporary disruption to the service and would like to thank all our patients for their kind words of support over the last few days.
28 February 2023
WEARING A FACE MASK IN THE PRACTICE
ALTHOUGH GUIDANCE HAS CHANGED REGARDING THE WEARING OF MASKS, THE PRACTICE HAVE TAKEN THE DECISION TO RECOMMEND PATIENTS CONTINUE TO WEAR A MASK WHILST WAITING FOR DISPENSARY OR IN THE WAITING ROOM. THE PRACTICE CONTINUES TO SUFFER WITH STAFF ABSENCES AND WE HOPE CONTINUING WITH THIS PRECAUTION WILL HELP MANAGE THIS AND ENSURE CONTINUITY OF CARE TO PATIENTS.
WE THANK YOU FOR YOUR CO-OPERATION & UNDERSTANDING.
#The Vaccinators
Get your COVID-19 jab at one of our walk-in clinics. You only need to bring a face covering along.
For children aged 5-15, we ask that they are accompanied by a parent or guardian to the vaccination.
Details of the clinics available can be found at www.thevaccinators.co.uk, the site is updated daily with latest information.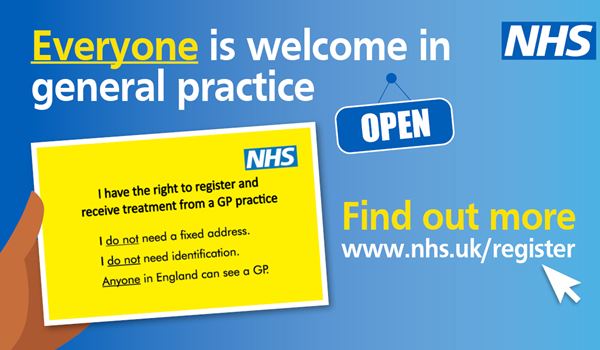 General Practice Data for Planning and Research (GPDPR) Data Extraction - Make Your Choice
Patient data from GP medical records kept by GP practices in England is used to improve health, care and services through planning and research, helping to find better treatments and improve patient care. The NHS is introducing an improved way to share this information – called the General Practice Data for Planning and Research data collection.
Choose if data from your health records is shared for research and planning
You can use this online service to:
choose if your confidential patient information is used for research and planning
change or check your current choice
Your choice will be applied by:
NHS Digital
all other health and care organisations by 31 July 2022 (delayed from March 2020 to allow organisations to focus on the COVID-19 outbreak).
Any choice you make will not impact your individual care.
The latest information on the GPDPR, including what information is obtained and how to opt-out of sharing your information, can be found here.
Contact Us
Bottisham Medical Practice
Tunbridge Lane
Bottisham
Cambridge
Cambridgeshire
CB25 9DU
(By car, access to the surgery is via Ancient Meadows)
Patient & visitor parking available on site
FOR URGENT ENQUIRIES, PLEASE TELEPHONE OUR RECEPTION TEAM ON THE NUMBER ABOVE.
You can also contact us via the 'Contact Us' link below. This will be read by a member of the team within 2 working days. Please do not use the Contact Us Online link if you need to contact us urgently. This online link is not to be used as a way of making an appointment or contacting a GP.